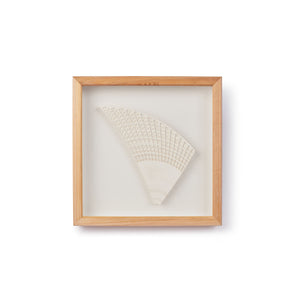 Sydney Opera House Structural Model
This model is a recreation of a part of an elevation drawing that was used to document the concrete rib segments, and also appeared in the 175 Arup engineers journal on the building. It shows the concrete ribs that form the main structural elements of the opera house; both a testament to Utzon and the many engineers that made it possible, from Ove Arup and team through to the onsite engineers. It details the ribs that form the main sails of the Opera House and are now clad in over 1 million tiles.

This 3D model is made in Sydney from eco-friendly resin-plaster with all materials sourced locally.
Please be aware due to the models being cast by hand in a traditional, non-injection-moulded process, every model is individual, the plaster may have very small inclusions, which can show as streaks, marks and colour changes, deviations and air pockets.

Learn more about Uncovered successful applicant fromBIGthings here.


Brand:

fromBIGthings



Material:
Eco Friendly Resin Plaster

Dimensions:
29.8cm x 29.8cm x 3.5cm ( Model )
34cm x 31.5cm x 7cm ( Packaging )
Weight:
1.3 - 1.4kg apx

---
我们也推荐